The Site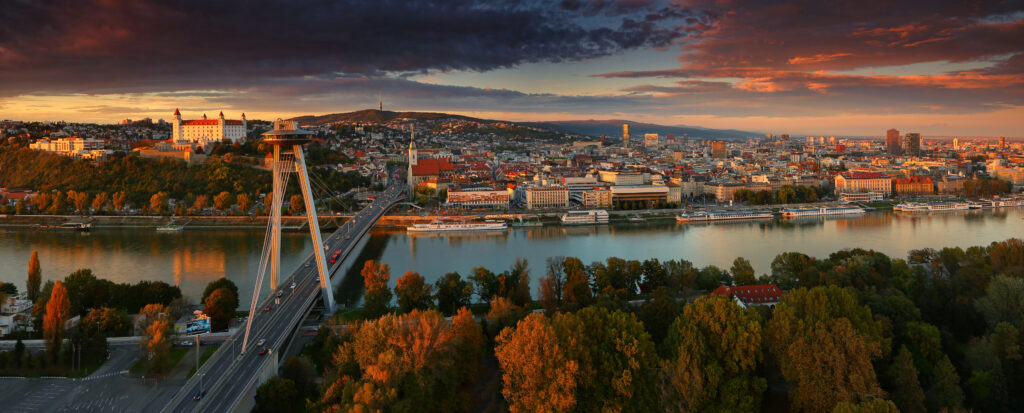 Site that we choose for our research area of bikeability is situated near the centre of the capital city of Slovakia, Bratislava. Namely, we have focused on both sides of the Danubes waterfront. The waterfront on the left side of the river is in direct contact with the historic city center. The area between the castle and the old town, formerly known as the Jewish quarter, was affected by extensive demolition due to the construction of the bridge SNP in the late 1960's. Despite significant damages and split, which the bridge caused, nowadays it is a big architectural landmark of Bratislava and also a national heritage. We can describe this part of the city as a shrinkage area. Pedestrian promenade along the river is short, not well organised and ends on the private parking lot. On the opposite site of the parking lot along the Danube is New city centre with highrise buildings, administrative districts, cultural institutions and shopping facilities. This area is characteristic with fast construction and growth.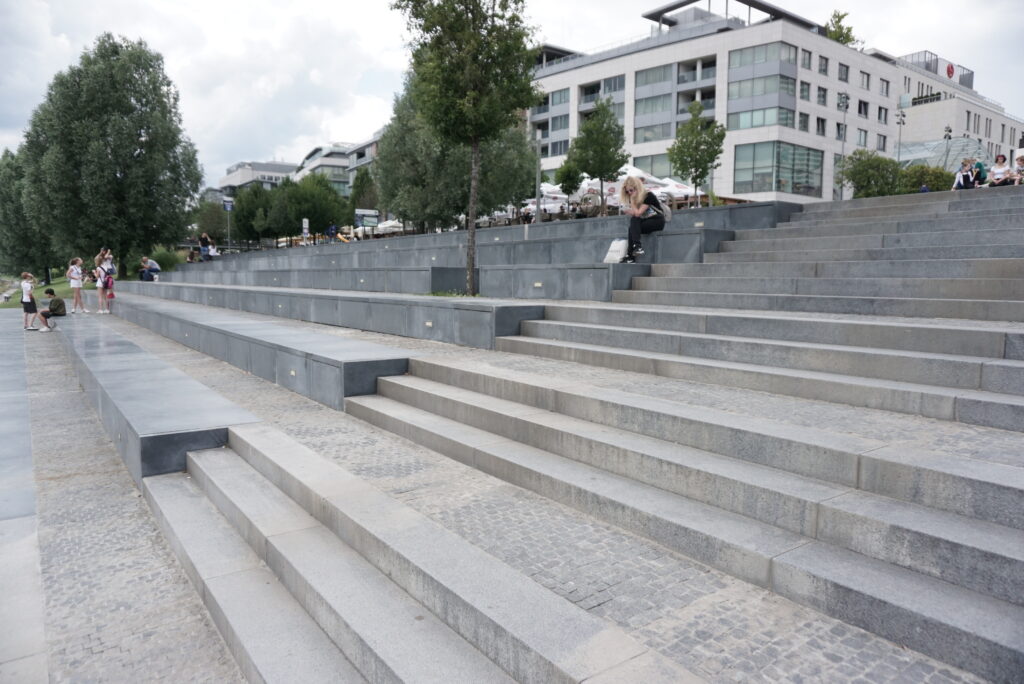 On the right bank we can find the oldest public park in middle Europe, founded in the 18th century. This part has more natural character with embankment, summer beach, restaurants or botels. When you cross the park towards Austria, you can find here the biggest residential borough, built of prefabricated concrete panels during communist era, which is a home to 100 000 people.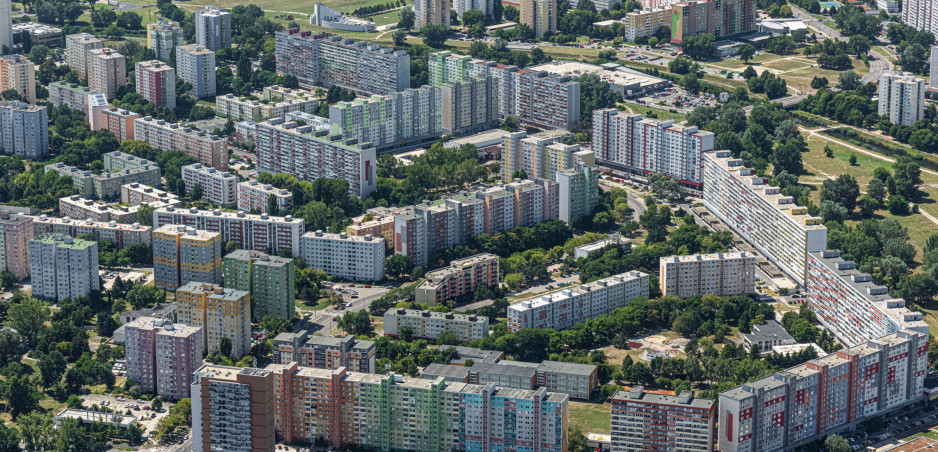 Research agenda
Our choice of locations consist of a touristically attractive small sightseeing circle across the two bridges in the old town area with local heritage, pedestrian promenade along the Danube, and way from one of the most frequent bus stops to residential borough, Karlova Ves, along the river. These routes are used by a large part of citizens, whether for regular movement around the city, recreation or sport. We focus our research particularly for physical obstacles, hindrances, absence of traffic signs, guidance elements or rest places in public space.
Results
Track 1
We start our mapping under the bridge, at the beginning of a small sightseeing circle along Danube. It is a pedestrian promenade, very popular for tourists but also citizens especially in the summer, when it is really overcrowded, unfortunately not just with pedestrians. You can find here a lot of recreational cyclists and skaters. Promenade has variable widths, benches are located closer to frequent road than water and flood barriers obstruct the view. Boat piers are made of slippery materials and steep. Promenade ends at a small square before the Museum of natural history. Museum's main entrance is accessible only by stairs. At the square we find a lot of physical obstacles, such as high curbs, too narrow sidewalk and a lot of stairs. At this ending point is located a personal port ( offering Danube cruises ) also accessible only with stairs.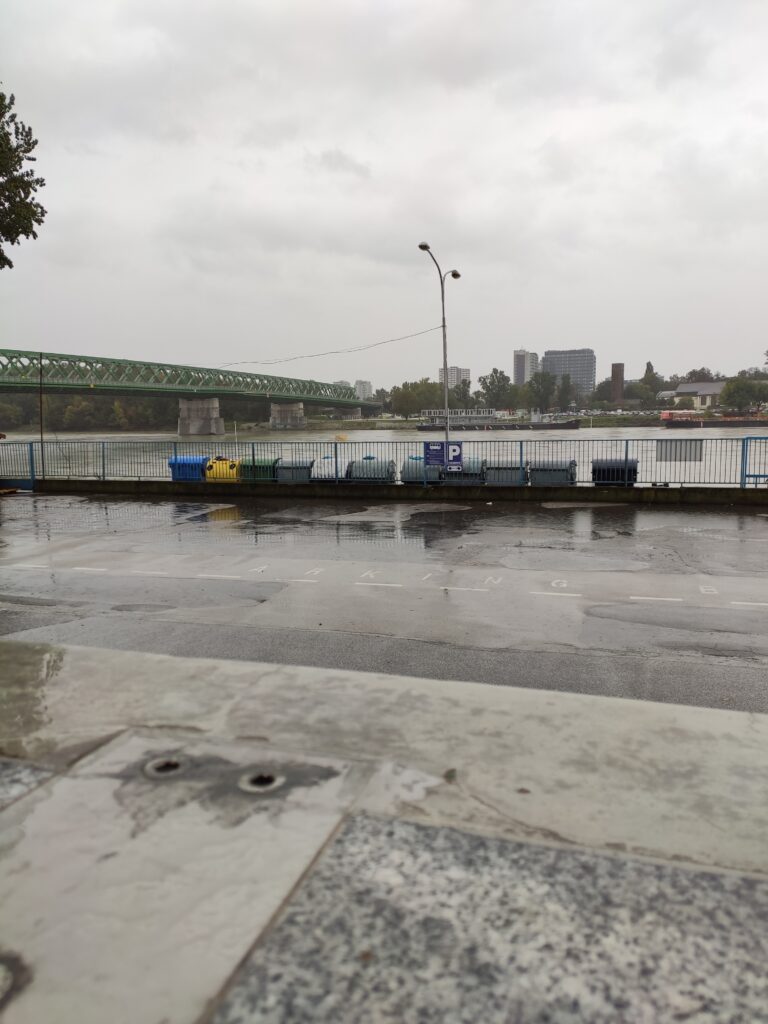 Promenade seemingly continues but directly to the private parking lot. The sidewalk here is reduced only to the width of the crossing of two persons, on the opposite side of the road even for just a single one. A walk ends with a seasonal summer beach, accessible by stairs again, which was flooded during the rainy day. Pedestrian paths are poorly sloped, damaged, have wrong top material and dangerous moments hinders your nice walk and during bad weather the puddles, which make the sidewalk impassable, only if with the right fishing shoes. If you want to get on the bridge or to the new city centre, you have to use alternative route through side streat to frequent crossroad/square before university. The entrance to the bridge is quite steep, but the bridge itself is a pleasant walk with a beautiful view, especially at sunset.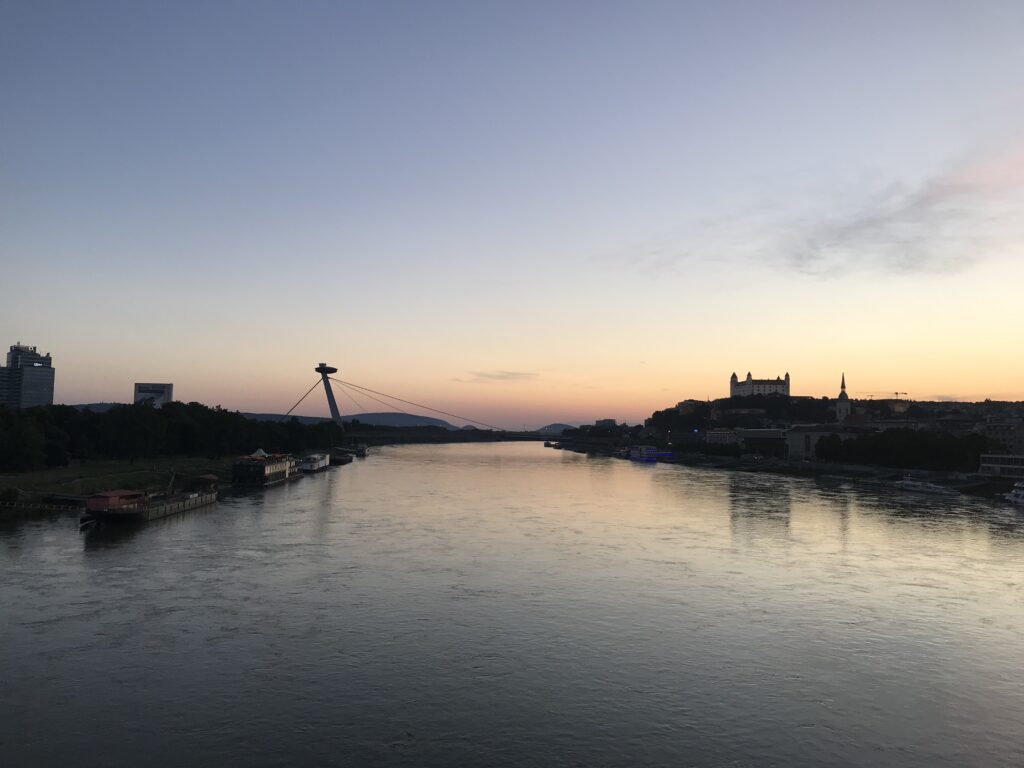 Track 2
The track starts on the bridge for pedestrians, cyclists and trams to the residential borough on the right side of bank – Petržalka. Ending of the bridge crosses pedestrian sidewalk, cycle path and tram stop really unorganized. Along the Danube we can find an embankment with summer beach, parking lot and two parallel ways. One way is only for pedestrians, but it is also used by cyclists and skaters, with free time activities as sports, playgrounds or restaurants. The second way is between park (Sad Janka Kráľa) and an embankment. This way is specified for one way car traffic and two way cycle path. We can find here crossing of many types of traffic, with no crosswalks. Entries into the park are not wheelchair accessible, there are just stairs and no ramps or not marked paths walked by people in the grass, now in mud. There is a poor density of pedestrian shortcuts in this type of public space , we find barriers as fences of playgrounds, private properties of restaurants etc.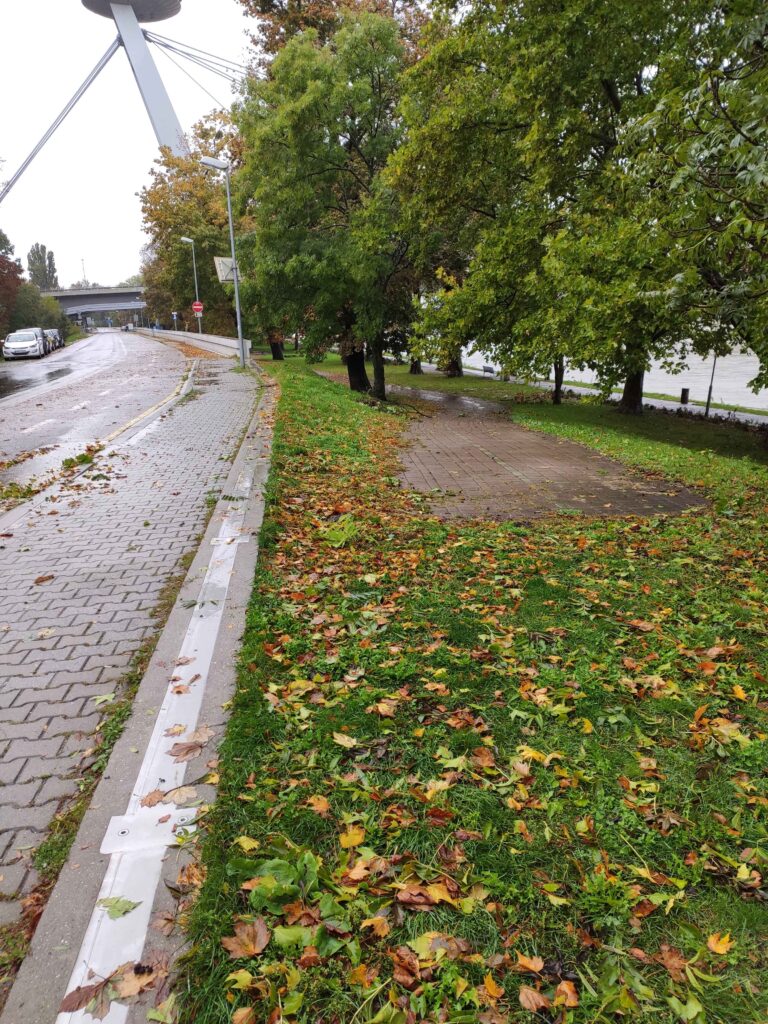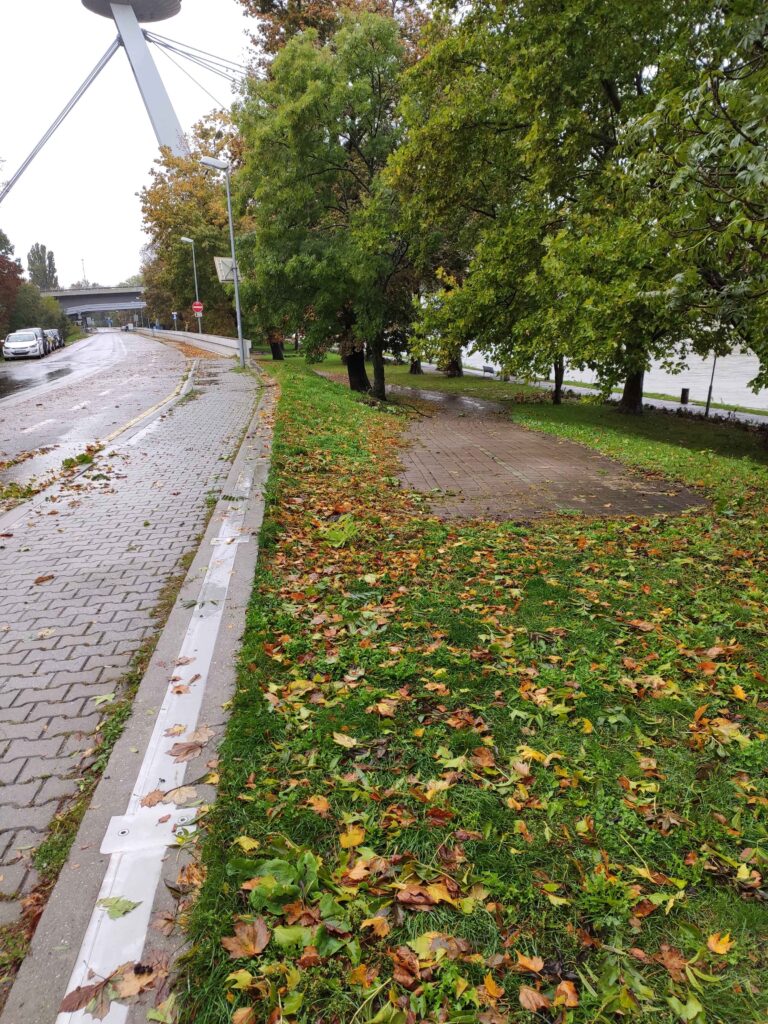 Entering and exiting the bridge SNP is hardly accessible for some people. There is no chance to use an elevator, ramps are too steep, a lot of surfaces and materials, which is used for repairing damages and makes an obstacle in smooth walk.
Track 3
Promenade along the river Danube in natural landscape, mainly for recreation, sports, but also used as pedestrian shortcut from residential district Karlova Ves, where is located student accommodation too, to the city center. We find here many physical obstacles, ramp protecting path from cars, big parts as unpaved areas just with mud or random gravel. Neglected greenery extends into sidewalk space and again absence of cycle path caused dangerous crossing cyclists with pedestrians.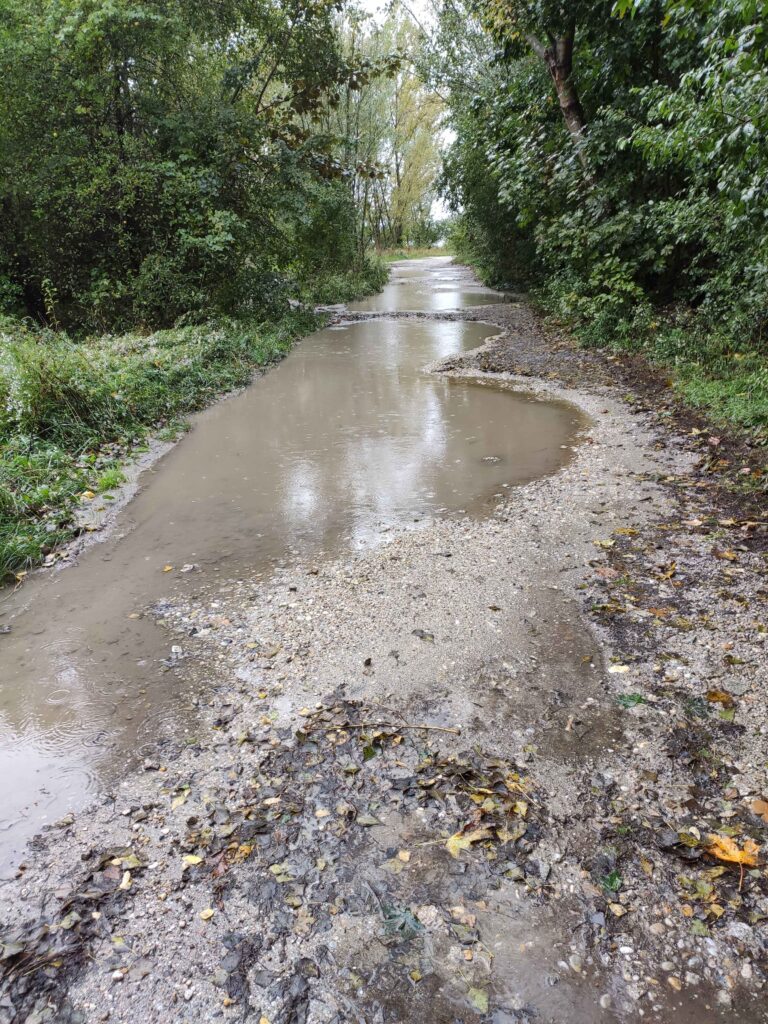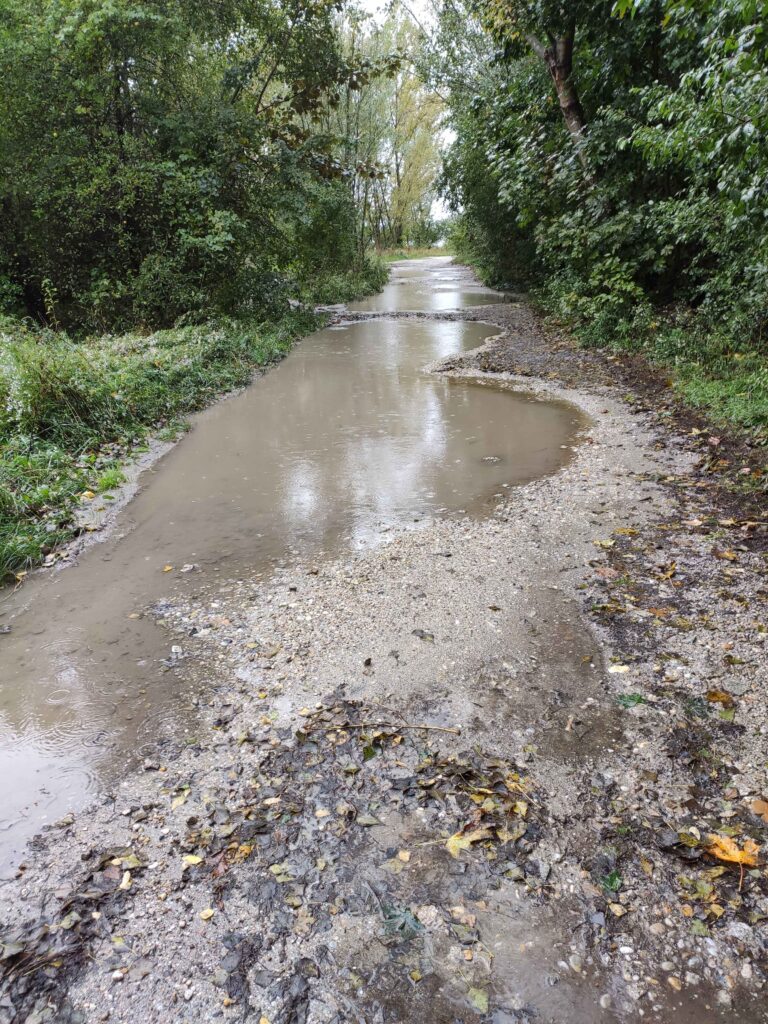 Methodology
During the accessibility study in Bratislava (Slovakia), several methods of spatial field research were used. Our approach to the topic consisted of GPS movement tracking, which was converted into the path visualizing the researched area. Problematic places and their elements were geolocalized along these paths. Those were further evaluated by making memos in the form of handwritten comments and remarks. Additionally, our observations are illustrated on photos of the observed places and elements.

The field research was executed with the use of freeware application OsmAnd. Accessibility mapping focused on the total number of 3 tracks in the total length of 6 kilometers. Altogether, 6 number of places were observed, and 36 photos were made with the use of this app. Collected data of the field research were further converted into GeoJSON format of geographic data structure via geojson.io webpage. This type of conversion ensured further presentability of the acquired data, as well as the possibility of the further research and comparison. The whole approach is embedded within the OpenData principle, when the data are publicly aqurrible, and accessible.
Methodological reflection
Problems and/or difficulties
The problem point of our research was the un-compatibility of mapping tools from the used application for Iphone users and an unfortunate coincidence of really bad autumnal weather with heavy rain through data acquisition days. We also get into some dangerous situations in confrontation with cars at places without pedestrian/cycle infrastructure.
Easy points
We consider the easy part of the research site selection and identification of problems.
Potentials and constraints in using the methodology
As a big potential we can suggest using this system by citizens as a real time tool for reporting damages, obstacles or problems to municipalities also as a valuation tool for public spaces, which can be used as part of the participation process. Constraint of this usage is un-objectivity of acquired datas. However, such tool already exists in Slovakia ( Odkaz pre starostu – https://www.odkazprestarostu.sk/, Pocitové Mapy – https://www.pocitovemapy.sk/).
What was good/bad suited to illustrate the observations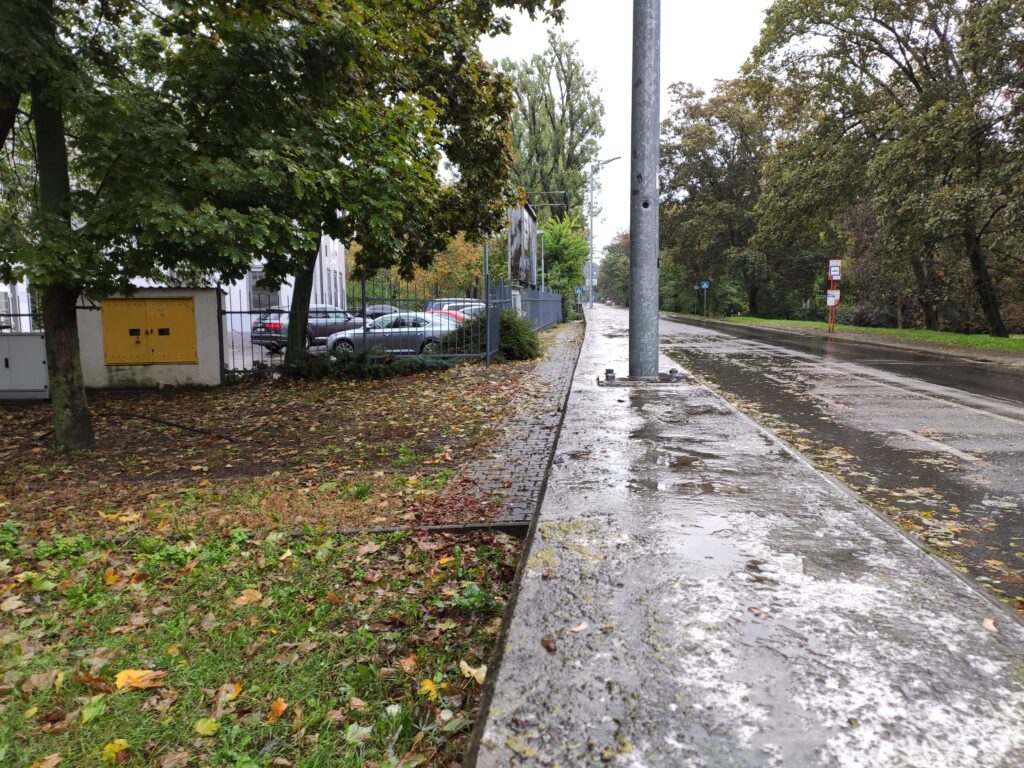 Overall observations show the poor condition of the basic sidewalks, coverings, channel outcrops, lack of accessibility caused by high curbs, stairs without ramps or alternative paths, poor markings for the blind, incorrect transitions when designers change the pathway materials, steep ramps, sidewalks ending nowhere, neglected greenery. Shared scooters and bikes parked in the sidewalk area. Waste bins, pillars of signs, lamps or barriers for cars, still occupy an area for pedestrians and it becomes dangerous. Pedestrian connections and shortcuts are not supported by crossings.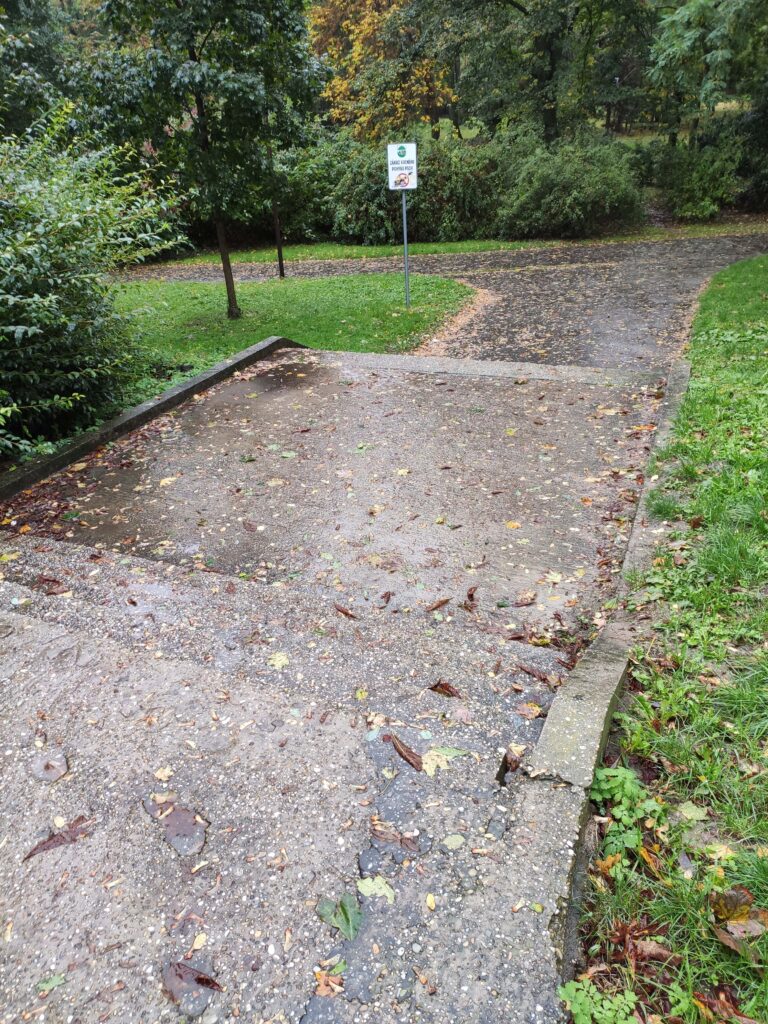 Which questions could be relevant for further research?
Daily usage of focused areas, which kind of people we can find here and how they are moving or behave in locations.